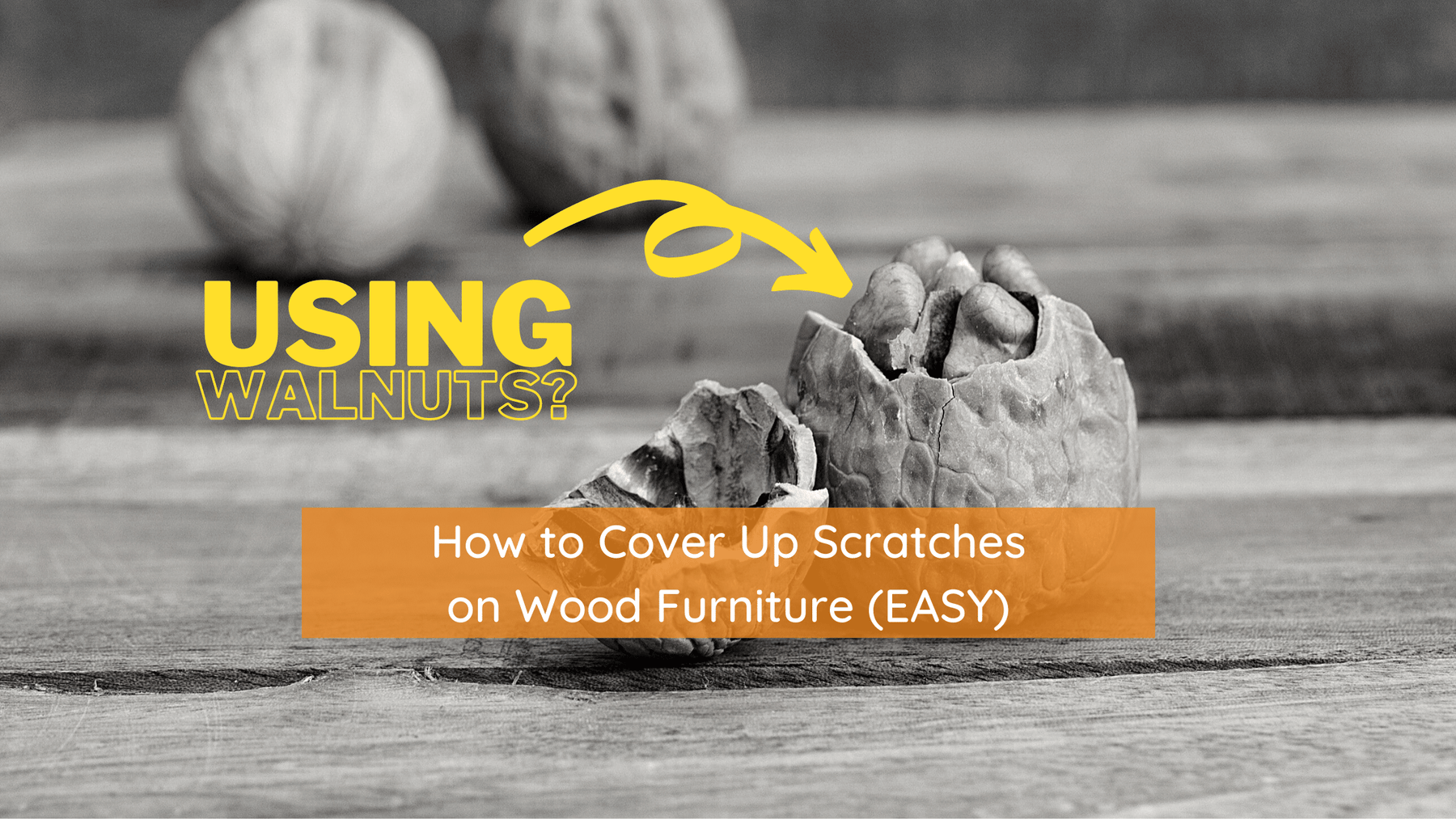 How to Cover Up Scratches on Wood Furniture (Cheap & Easy)
After owning wooden furniture for a while, chances are you've accumulated a couple of nicks and dents. But before you go and spend money on a professional wood refinisher to restore the surface, consider saving money by doing it yourself using everyday household items. 
Note: Many times, what looks like scratches on the wood may just be scratches on the wax buildup (It feels sticky). In that case, you'll just need to give it a good clean to remove the scratch.
#1 Walnut
This walnut hack works because walnuts produce a natural oil that can conceal visible scratches. It also works for deeper scratches as the walnut meat can fill in the gaps of the scratch.
Rub a raw walnut back and forth diagonally across the length of a scratch for a few seconds, then use a soft microfiber cloth and gently buff out the scratched area. The mark should now be less noticeable, and the surface will look just as new.
Note: You can also use other nuts such as almond, pecan, brazil nuts in place of walnuts.
#2 Eyebrow Pencil
Oftentimes, you can cover up a furniture scratch rather than removing it.
For small scratches, find an eyebrow pencil that matches the colour of the surface and then draw along the scratch direction.
Prefer not to use your eyebrow pencil? The Rejuvenate Touch Up Marker (from Amazon) could do the trick as well.
#3 Crayon
For deeper scratches, crayons can come in handy in filling up and concealing the scratch. Especially if you can feel the scratch when you run your finger over it.
Just find a colour that matches your furniture and rub it into the scratch. Carefully remove the excess with your EFTPOS card and polish your furniture to give it a glossy shine.
The best thing about this method is that you can easily remove the wax later if needed.
Alternatively, you can purchase some Katzco's Wax Stick & Furniture Repair Kit (from Amazon) to help fill up and conceal scratches on your furniture. 
#4 Coffee
For darker-stained wood finishes: A cup of americano (long-black) will do the trick. Try mixing a thick paste with instant coffee granules and a little bit of hot water, then use a Q-tip or clean rag to apply the coffee over the scratch.
This works as a stain, and will have the scratch blending into the floor in no time.
 #5 Paint
Another way to conceal scratches in varnished wood furniture is to apply watercolour paint to the affected area.
Use an artist brush and paint together to hide the scratches, once concealed, you can cover the spot with wax or varnish.
#6 Cooking Oil
Cooking oils such as vegetable oil and canola oil can be used to cover minor scratches. The oil will darken the wooden area and help it blend in.
Simply apply a little bit of oil to your fingertips and run it across tiny scratches to hide it. 
#7 Shoe Polish
You can also use shoe polish to fill in dark wood furniture, make sure that the hue closely matches your furniture colour.
Rub the shoe polish into the scratch using your fingertips, let it sit in place for about an hour and wipe the area with a clean, dry cloth. Apply varnish or some homemade polish to set the colour in.
#8 Peanut Butter
This method has the same idea as the walnut hack, rub a little peanut butter on the scratch to give your wooden furniture a rehab.
Leave the peanut butter on for about an hour, wipe it off with a wet rag, then buff with a microfiber cloth.
#9 Vaseline
Good old vaseline may help with raising tiny dents and filling up scratches. Apply a little bit of vaseline over the scratch and dents and leave it overnight, this will help plump up the wood and fill in the scratch.
Wipe away the vaseline in the morning and polish off the surface.
#10 Water
This method can be used to raise small, shallow dents in your wood furniture.
First, carefully remove the finish around the dent with a fine-grit sandpaper. After removing the finish, apply a few drops of water to the dent and let the water penetrate the wood for a day or so.
Check back in a few days to see if the dent has been raised. This method is especially useful on softwoods with shallow dents.
If this method doesn't raise the dent, you can soak a cloth in water and wring out the excess. Place the damp cloth, folded into a few layers, over the dent; then press down on the cloth firmly with a warm iron.
The moist heat may be enough to swell up the wood and raise the dent. Be careful not to touch the hot iron on the wood. 
Click here for a video tutorial on how it's done.
After the dent has been raised, let the wood dry out for a few days, then you can refinish the damaged area.
Note: This method only works with small, shallow dents in softwood such as NZ Pine
Wrapping up 
Congratulations! You now know enough to fix up the little scratches and dents on your wooden furniture.
We hope this article brought you some value in any way, and if you ever need more advice or chat, don't hesitate to get in touch with us through our contact form below.
Or feel free to post your question on our Facebook community page; we strive to help our customers make the best choice for furniture shopping and furniture care.