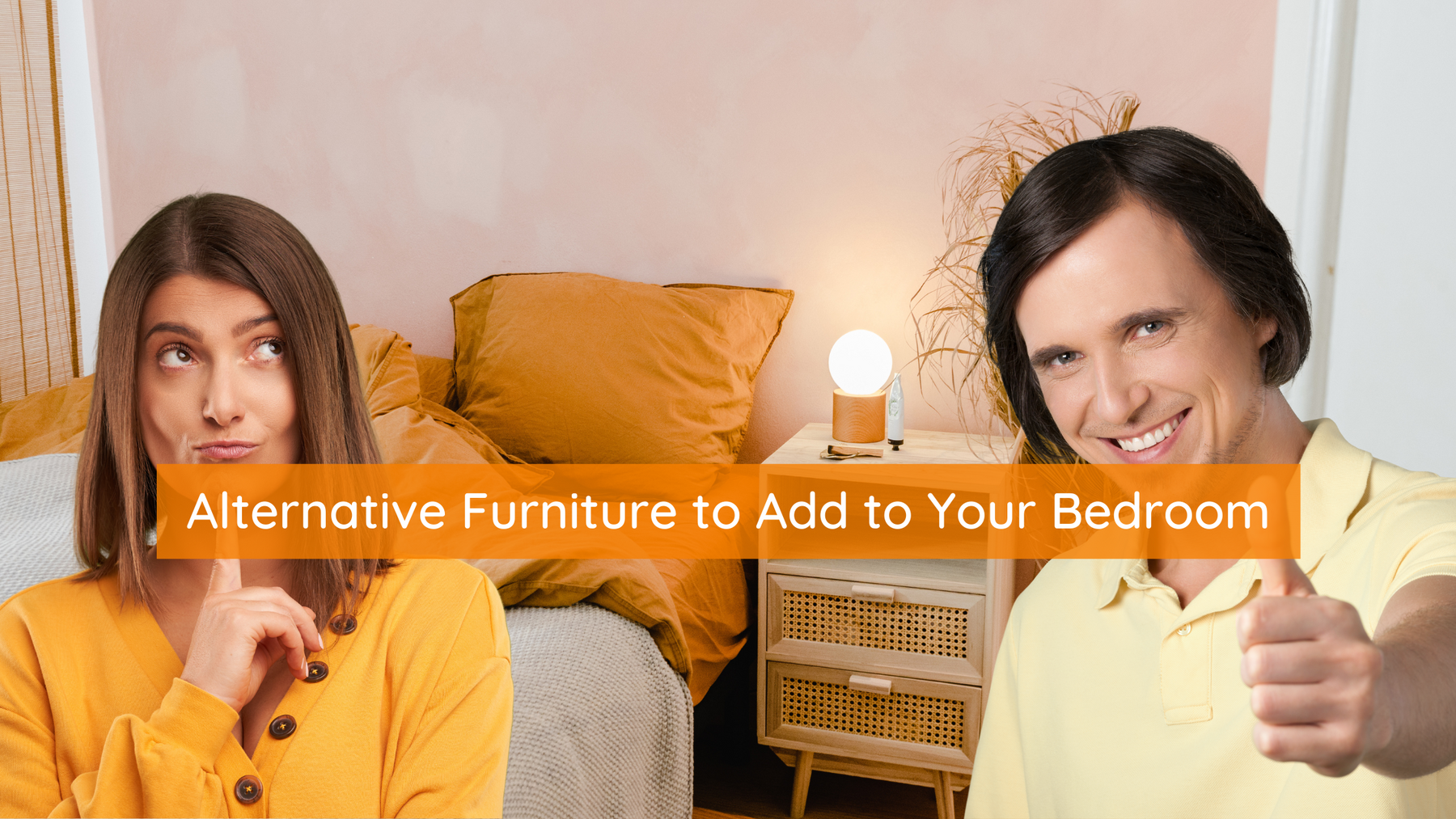 Alternative Furniture to Add to Your Bedroom
When it comes to bedroom furniture, simple is the best way to go: somewhere to put your clothes, somewhere to put stuff you keep beside your bed and somewhere to go to sleep. But sometimes simple isn't enough! If you've just moved into a spacious master suite and feel like your room's a little sparse on furniture, we will offer some great alternative items to add to your bedroom!
Blanket Box
While it would be amazing to only need one layer of bed sheets year-round, the unfortunate truth is that at some point you're going to need to remove or add an extra blanket onto your bed for a comfortable sleep, this is where the Blanket box comes in!

Placed either at the foot of your bed or in its own little nook, a blanket box adds a great space to store any extra blankets and pillows you might want to be kept nearby. Whether it's a big bulky mink blanket or just an extra set of sheets so you don't have to stress about getting your set dry by the end of the day, a blanket box can make a treasured addition to any bedroom.
Its possibilities don't just stop with linen, however! Since it's just an empty box, anything can be stored within a blanket box's confines. Extra shoes? Put them inside! Toys for a children's bedroom? Swallowed with ease! Invaluable items you want to be hidden from the public eye? Put them within! Blanket boxes add that little amount of extra storage to keep your home tidy and your mind at ease.
Cube Shelving
The beauty of the cube is its simplicity: it's a cube! Four walls to contain any variety of items for any purpose. However, the beauty of the cube is when you start to think outside the box!
With simple flat surfaces, the outside of a cube can be used just as well as its outside with some clever thinking! Using the cube as a low bookcase? Put some flat pillows down and place it near a window to create a small reading nook! Have it standing tall as a display shelf and plant home? Put some command hooks on the side and now you have a home for your coats and jackets. When you think outside the box, a simple cube can transform into any variety of purpose-fit furniture with ease!
Chair
This one seems odd but once you add it, you won't live without it! A spare chair can fill the role of many objects in a pinch without you needing to worry about the clutter of keeping each item the chair takes place.
An extra chair will have you sorted for a variety of situations such as needing an extra chair at dinner, needing to reach somewhere a bit too high, needing a seat to put on that stubborn pair of shoes, a quick home for your laundry when you can't be bothered putting it away. A spare chair will always be at the right place at the right time if it's in your home.
Small Bookshelf
Having a large bookcase in a central area of your home is always great, a place to showcase the little library you've accumulated over the years. However, not every book is ideally placed front and centre in your living room (a certain series from E.L. James comes to mind here.)
Having a small bookcase in your bedroom gives you a home for any books you intend on reading in the near future or want to be kept close at hand. In a children's bedroom particularly, a small bookcase means you can keep The Hungry Caterpillar away from your copy of 1984. Bookshelves can also make great places to stash other things, such as a daily pair of headphones or your prized coin collection.
However, another alternative reason to look into a bookshelf is for a shoe shelf. If you've got a large collection of footwear, a good bookshelf can make a great display for all the shoes you could wear for the day!
Mirror
It's debatable whether this one is optional, because how else are you meant to know the outfit you chose for the day is fire or if it looks like you were dressed by a toddler? A good mirror that lets you see your figure from head to toe will always be a great addition to any bedroom.
Outside of dress ware, mirrors also have plenty of other benefits, such as artificially increasing the space in your bedroom and with correct placement, adding additional light through reflection. Furthermore, smart placement means you can use the mirror as a soft security device to quickly tell when any roommates are peeking through your door when you want some privacy.
Conclusion
Hopefully, this guide has helped you in some way! Whether it was filling in that empty corner or bringing an extra amount of organization and storage for your bedroom, these items are all great additions to a bedroom depending on your needs. Your bedroom should reflect you so having a bedroom to fit your needs is a start to making your sleeping area your own!
FAQ
Where Can I Buy Any of These Items?
If any of these items, in particular, have tickled your fancy then good news! We have all of these items available on our website right now!
However, if you're reading this from outside New Zealand, we would again recommend looking for a good-quality furniture store that uses high-quality materials for their furniture.
How should I decorate my bedroom?
When it comes to decorating your bedroom, we also have a blog post detailing the do's and don'ts of bedroom decorating.
However, for a quick rundown, we would recommend considering the amount of space you have on hand and making logical placements for where each piece of furniture should go. This means that if you sleep with your partner, place your bed in a location where both parties can get into bed with ease and don't place your chest of drawers in a location that's just begging for a toe to be stubbed on it.