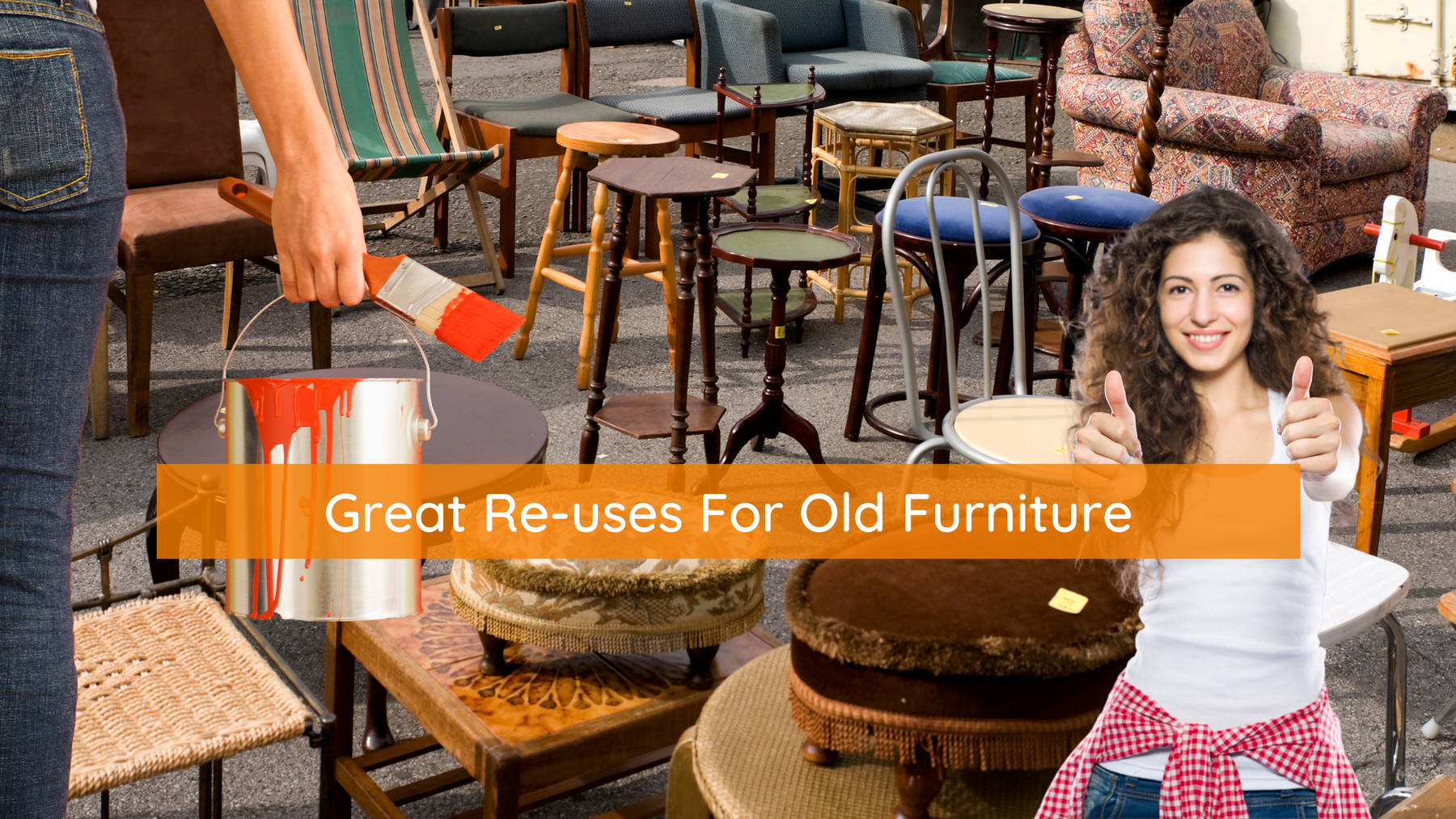 Great Re-Uses for Old Furniture
If you've browsed through any charity shop or old couples garage sale you've most likely seen it: that piece of furniture that's been gentrified or has lost its use due to its purpose no longer existing. However, this units life shouldn't end in a landfill! It can still have some purpose in a modern home with some know-how and out-of-the-box thinking! We'll help generate some ideas on how you can make some purpose-made furniture for fractions of the cost.
Chest of Drawers
One way or another, you're going to end up with a set of drawers that just doesn't quite fit your needs. Whether it's a childhood set covered in stickers from your angsty youth, or a set given by an older relative that looks like only clothes with frilly lace should sit within, their purpose doesn't just stop with clothing! We've already done a blog article on the many ways you can re-use a set of drawers, from a TV stand to a toolbox! A chest of drawers is only limited by what you want to put inside it!
Bedside Cabinets
While they may serve their purpose best at holding your night water and socks, bedside cables are actually great for a variety of purposes! Replace the socks with TV remotes and batteries and your bedside cabinet is now a couch side companion for your extended Netflix binges. Their size also adds to their versatility as most bedsides are made low so you can reach your items in bed. However, this height also makes them great for a bit of under-desk storage for extra pens and documents. 
Old TV Unit
If you've recently upgraded your TV, or you've found an old unit intended for CRTs in a charity shop, old TV units can actually be used for far more than their title implies!

For newer style TV units, they can easily be repurposed as a low sitting bookshelf. A good strong TV unit made from a material such as Oak could even pull double duty as a bench seat with some cushioning on top. The great thing also is most TV units allow you to adjust the height of the shelves, meaning you can better hold whatever items you want resting inside.
For older CRT style units, the same idea of bookshelf transformation still applies, with the appropriate limitations. However, another great idea is turning the unit into a hi-fi shelf! Since these units were intended for larger devices such as VHS players, their cavities are much more spacious thus making them a great home for a small collection of vinyl, while the top surface has more than enough space for your amplifier and turntable. While some audiophiles may turn their nose up at the lack of noise isolation this set-up may offer, for a beginner, this should be a great starting home for your collection as you build up your collection.
Hall Table
This one is more of a logical conclusion than a complete reconstruction, but still a great idea. If you see a good hall table with plenty of surface area above, consider transforming it into a small desk! In the 21st century, most of us use mainly our laptops for all of our work and only need extra desk space for our arms and our caffeinated beverage of choice. So the transformation from hall table to work desk may be minimal, but easily done for cheap! Plus, a hall table is always going to look more stylish than a drab old desk.
Buffet / Wine rack
A good buffet or wine rack is always welcome when done right in a living room. However, all that storage can seemingly go to waste when sitting in a charity shop, so adding some extra functionality to that storage is a great way to transform that buffet into something special.
If you've got a bit of extra cash, simply adding a granite top or some other form of protective layer to the surface area of your buffet can transform it into a great kitchen bench! With all the extra functionality that a buffet could provide, such as storage for all your pots, pans and cutlery! If you want to make the unit extra special, if the central opening has enough space, rout a small gap along the edges of the granite top and section of the central opening to create a nifty knife holder!
The other way to transform a buffet is to turn it into a bathroom vanity! With selective cutting to allow the sink and associated plumbing to flow through the unit, you can transform your buffet into your daily prep station! We've also included wine racks or buffets with open flow gatherings into this option as those gaps meant for holding bottles and vases can easily be repurposed to hold towels and toiletry bins!
Before doing these transformations, we would highly recommend checking the material of the unit itself is fit for this style of purpose. You want to make sure that your chosen material is sturdy enough or water-resistant enough for its chosen purpose. As such, we would definitely recommend a hardwood such as Oak for this situation due to its vigorous durability and flexibility.
Re-use what you want!
Sometimes when looking at second-hand furniture you may notice a piece that while the body may be ruined, but those drawers are actually in great shape! In this instance, see if the store will let you take what you want or take the ruined unit at a discounted rate, because even those drawers can come into use without their associated unit.
If you've got a big pantry filled with herbs and spices, consider just laying the shelf in the pantry as is. Now you've got a home for your paprika and cumin and a way to easily remove all of them without needing to scrounge through the pantry! Even with some small pieces of timber, if you place the drawer on the wall with the handle facing downwards, now you've got a small wall shelf to place in the hallway, with a hook below for keys and scarves!
Lots of parts of furniture can easily be repurposed for other uses, it's up to you to come up with how to use them! Could you turn those cabinet doors with the intricate engravings into something special? Or can you remove those dining table legs and put them onto something that better fits your needs? So long as the removal isn't overly destructive you should be in the gold!
Conclusion
Whether it was a piece gathering dust or a diamond in the rough found in a charity shop, hopefully this blog has given you the inspiration to let your creative juices flow and create something truly unique! Don't let a piece of furniture's intended use fool you, at the end of the day all they are is wood panels for whatever use you need.
Also give yourself a pat on the back, by repurposing this furniture you've successfully stopped another piece of furniture meeting an early demise in the landfill. We've already written a blog post about why purchasing cheap new furniture can be harmful to the environment, so by instead purchasing something second-hand to fulfil that purpose, you've successfully saved money and the environment!
FAQ
Should I purchase new furniture to customize?
We would initially dissuade you from purchasing new furniture for customization. This is because ideally in this situation you want a good piece of furniture for as cheap as possible so you can focus on putting the money saved into upgrading the piece. When purchasing new, you often have to choose between purchasing good or purchasing cheap.
While there may be some middle grounds (such as us 😉) we also wouldn't recommend trying to alter new furniture because it defeats the point of purchasing new furniture. If you damage the unit in the process of your transformation, you aren't likely to get a refund from the store you purchased the unit from. Even if you do as clean a job as possible, the store isn't going to want your unit with your alterations if you choose you don't like the furniture in the end. By purchasing second-hand there's no warranty or refund policy, but the cost should ideally be so minimal that this doesn't matter, and if you decide you don't like the unit you can easily trade it into another charity store with little to no harm done to your wallet or dignity.
Should I pay someone to make the adjustments?
The answer to this depends on your situation, capabilities and what it is you're adjusting the furniture for. If you've got the tools, know-how and furniture at hand, then in true kiwi spirit "mate, do it yourself". Custom furniture is to fit your wants and needs, so getting someone else to make it can lead to all sorts of miscommunication between your ideas and their execution.
However, if you don't have the tools or know-how, asking someone for help can be beneficial. Obviously, if they can make the adjustments then you're in the green, but it also pays to have someone qualified give their two-cents if they think the adjustments aren't gonna work. In this situation, we would also recommend someone you know and trust, whether it's a skilled family member or friend or even a business you have a good relationship with, being able to convey your ideas and have the other party properly understand how to execute them is vital in these types of scenarios.
What Material Should I Look For?
As mentioned above, the main materials we would recommend for transforming furniture are oak and pine furniture. This is due to their relative malleability and durability for any situation, alongside being easy to re-paint to your desire. Other materials such as metal and glass aren't easy to adjust from their original forms and can easily break in ways with no easy way to fix the product without serious metal working skills. However, we also don't recommend all wood products either, MDF is commonly used in cheaper furniture but is vastly less durable compared to it's pine and oak counterparts.